Transform Your Life With Yoga
               

Are you...

                                          

Or maybe you're...

          

Hungry to practice yoga on a deeper level?
Wanting to learn new yoga techniques?

Curious how you can refine your yoga practice?
Ready to revitalise your health &

step into your purpose?



YES, THAT'S ME!
Looking to turn your yoga passion into a fulfilling career?
Wanting to start a business in the yoga industry?
Struggling to develop your yoga brand?
Ready to go from Yoga Instructor to Yoga Entrepreneur?
YES, I AM READY!
Take Rocket Yoga with
Yogi John Thurman

---
AND get a FREE - ONE-MONTH TRIAL MEMBERSHIP to our entire yoga library. 

Access to ALL Courses at Blue Osa
Monthly Private Free Workshops with Yogi Aaron

Free Yoga Trainings for Members Only
Exclusive Discounts on Stays at Blue Osa & Premium Trainings
...AND MORE! 
TAKING YOGA HAS NEVER BEEN EASIER
Whether you're a student or a teacher, we offer classes...
ANYTIME
Never be late to yoga again. Classes are always available with lifetime access.

ANYWHERE
Viewable on any device, wherever you are in the world. Just log in and start learning.

AT YOUR OWN PACE
Take as much or as little time as you need to complete. It's yoga on your schedule!

"I'm meditating every day and now my husband is too! Thank you Aaron. You're changing the world and it needs you now. 😉😘"

Sandy F

Student Of Yogi Aaron

Membership Access

With membership you will receive:

free access to Yogi Aaron - Once a month, Aaron offers exclusive private free workshops to people who would like to become teachers, or have taken trainings with him. 
tools on how to overcome your fears and how to live a more abundant + purposeful life. 
tips on how to create more cultural diversity
free trainings ONLY available to members of yoga online
discounts offered for trainings, stays at Blue Osa and more. 

Valued at $1800! For only $9.99 a month. 

Membership gives access to ALL of our library content including:

The Charka Healing + Alignment Course
How to Meditate and Build a Morning Routine Course
The Yoga Alignment + Mastery Course
The Business Course For Yogis
and many more!

$

9.99

"Yogi Aaron at last is an incredible host and teacher. He leads with love and makes all people feel welcome in his sacred home. He is insightful and well-prepared to deliver an experience that is truly life-changing."

Chris R

Student Of Yogi Aaron

"As a chronic back pain sufferer I learned a lot of information I didn't know before. Especially things I may be doing that may be hindering my healing instead of helping. As a yoga student it was helpful to learn specific exercises to help me strengthen my back."

Michelle G

Student of Yogi Aaron
We Have Multiple Online Courses to Choose From
Countless Online Yoga Resources
Interactive Yoga Videos
Downloadable Yoga Guides
Self-Paced, User-Friendly Platform
We're a Continuing Education Provider
Yoga Alliance Approved Courses
Minimum of 30 Hours of Yoga-Related Training Every 3 Years
Tools to Enhance Your Yoga Knowledge
Training to Help You Teach with Confidence
What people are saying...
"The Blue Osa Chakra Course is a great learning tool to dive deeper into learning about the chakras. What I love the most are the asana and sitting practices that Yogi Aaron teaches in relation to each chakra. There are video practices of poses, meditation and sitting techniques to help awaken each chakra. The course is designed to go at your own pace. Lots of knowledge to be gained in this course and I love Aaron's passion on the subject of chakras!"

Summer H

Student of Yogi Aaron

"I very much enjoyed the morning ritual course. I like Blue Osa, I like all of you. I like what you are doing."

Jason D

"I would recommend Yogi Aaron's teachings to anyone.What you will learn will open your eyes to new possibilities and understanding, and to loving yourself more."

Michaela B
Join the Community!
Become a member and you'll receive...
---

Access to ALL Courses at Blue Osa
Monthly Private Free Workshops with Yogi Aaron
Tools on How to Overcome Your Fears
Free Yoga Trainings for Members Only
Exclusive Discounts on Stays at Blue Osa & Premium Trainings
...AND MORE! 
Who Am I?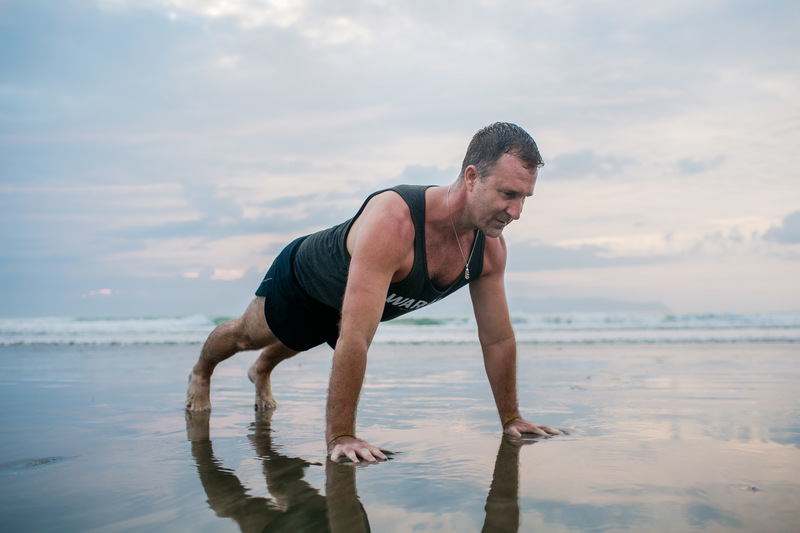 Yogi Aaron, author of "Autobiography of a Naked Yogi" is the
co-owner of Blue Osa Yoga Retreat and Spa, where he brings passion and adventure
to countless students through his teachings and lectures. 
Inspired by his own practice, he guides students to secret and
far-flung locales, empowers them to realize their own limitless potential, and makes yoga
relevant and accessible for the modern world. 
Since 2002 he has been traveling and leading retreats worldwide. He currently serves as the yoga director
leading the Yoga Teacher Training Immersions at Blue Osa. Follow Yogi Aaron on Instagram.
Meet Yogi Aaron and Blue Osa
"It is refreshing to have the opportunity to stay connected with Yogi Aaron and Blue Osa during these times and to continue growing and learning as a teacher with these trainings. I am teaching at a studio that has gone completely virtual for now, and Aaron's online trainings and dharma talks have fueled me to continue building unique and engaging classes for my students, even from a distance."

Katie R. Mason

LPC, BC-TMH, RYT

GET INSPIRED
---
Sign up for our FREE 28-day Yoga Series delivering
daily inspirational yoga quotes straight to your inbox to help you
take your yoga journey to the next level!
We hate spam too. Unsubscribe at any time.
"I can't tell you enough how much I value you and your teachings. Since your Applied Anatomy class, I feel even more hyper aware in the classes I am practicing in.

I have so many reoccurring students in classes because they leave feeling better in their overall well-being than how they came in (not to toot my own horn lol) but this is because of what I learned from you."

Alexis A

Student of Yogi Aaron
Join Yogi_Aaron on Instagram
FREE - Discover Your Purpose 
---
Daily Affirmations To Manifest And Live Your Life Purpose
A FREE 28-day affirmation immersion that will guide you back to clarity.
The affirmations to manifest your purpose, are designed to help you access your inherent wisdom so that you can live a life of meaning, adventure, and infinite possibilities.
We hate spam too. Unsubscribe at any time.